Qalaa continues to push forward with its divestment program and significant deleveraging at the holding and platform company levels while allocating substantial management bandwidth to selected holdings with high growth potential. Non-cash charges booked in 4Q15 were a prudent clean-up to finalize the restructuring of Qalaa's financial statements prior to the start of production at ERC and as TAQA Arabia pursues significant expansion
27% y-o-y growth in Total Adjusted Revenues to EGP 8,241.6 mn
30% y-o-y increase in EBITDA to EGP 847 mn
FY15 Net Loss of EGP 1,155.4 mn comes on the back of non-cash charges for impairments, provisions and discontinued operations totaling EGP 1,078.4 mn
Setting aside these one-time non-cash charges, Qalaa's bottom-line losses would have significantly narrowed to EGP 77 mn in FY15.
Qalaa Holdings (CCAP on the Egyptian Exchange, formerly Citadel Capital) released today its consolidated financial results for the for the year ending 31 December 2015, reporting a net loss after minority interest of EGP 1,155.4 million on adjusted revenues of EGP 8,214.6 million. Qalaa's statutory revenues booked on the company's consolidated income statement in FY2015 came in at EGP 6,638.9 million (excluding contributions from sold assets during 2015). Contributors to Revenues (adjusted) on a full-year basis were weighted toward the cement (38% of total revenues) and energy segments (31%).

Results were weighed down by EGP 687 million in non-cash charges from impairments & write-downs booked in 4Q15 as part of the ongoing program to focus on the company's selected subsidiaries in energy and infrastructure. These charges contributed significantly to a net loss of EGP 833 million in 4Q15 against revenues in the quarter of EGP 2,129.1 million. Additionally, provisions booked in FY15 stood at EGP 171.4 million, while losses from discontinued operations came in at EGP 220 million. Setting aside the impact of these non-cash charges, Qalaa's net loss for the full year would have narrowed substantially to c.EGP 77 million.

Adjusted EBITDA for the period stood at EGP 847.1 million, up 30% from EGP 652 million the previous year. Meanwhile, EBITDA in 4Q15 stood at EGP 67.5 million, a substantial decline from the same period last year owing to missing EBITDA contributions from the divested assets as well as additional charges related to non-recurring SG&A expenses stemming from advisory and legal fees for transactions concluded during the final quarter of the year. Below the EBITDA line, results were negatively affected by higher FX losses in 4Q15.

Discussing Qalaa's 2015 results, Chairman and Founder Ahmed Heikal said: "Our goal for 2015 was to complete Qalaa's transformation into a holding company through a four-pillar strategy, including deleveraging at the holding and platform company levels, driven in large part through the divestment of select business units; investment in future growth through the acquisition of additional stakes in key subsidiaries and the shepherding of Egyptian Refining Company (ERC) toward the start of production in 2017; selective investments within existing platform companies; and laying the groundwork for share buybacks using excess liquidity provided our stock continues to trade at a significant discount to its fair market value."

"We have delivered: 2015 was fundamentally about investment in our future growth through the execution of our divestment program and the allocation of substantial management bandwidth in selected holdings. The divestment program has resulted in significant deleveraging at the holding and platform company levels. Meanwhile, ERC — Egypt's largest in-progress private-sector megaproject — is on track to reach mechanical completion by the end of the year, and TAQA Arabia is in advanced stages to reach financial close for its two 50 MW solar power generation projects while simultaneously pursuing new opportunities in gas distribution and gas electricity generation."

On the restructuring front, Qalaa executed a total of eight exits in FY15 which generated total proceeds of c. EGP 2,400 million, more than 2.5x the value generated through three exits the previous year. Most notable of these exits were the sale of Qalaa's 27.5% stake in Misr Cement Qena in 2Q2015, while in 4Q2015 the company further reduced its exposure to the cement industry with its business unit ASEC Cement divesting its stakes in subsidiaries ASEC Minya Cement and ASEC Ready Mix. Meanwhile, the company's Agrifoods business unit Gozour concluded the sale of 100% of confectioner Rashidi El-Mizan as well as for the divestment of RIS assets in Sudan and El-Misrieen in Egypt.

Commenting on progress of Qalaa's divestment and deleveraging strategy, Co-Founder and Managing Director Hisham El-Khazindar said: "Throughout the year, our transaction teams delivered on a divestment strategy that generated net gains from the sale of investments of EGP 618.3 million and total proceeds to Qalaa of some EGP 2,400 million. In the process, we have so-far deconsolidated and repaid debt in excess of EGP 2,400 million out of which EGP 1,400 million were reflected on our consolidated debt position."

During the period from 1Q15 through 1Q16, Qalaa Holdings deconsolidated and repaid debt of c. EGP 2,420 million, part of which was consolidated on Qalaa's balance sheet and another under discontinued operations or off-balance sheet items, and both of which play into the reduction of financial and operational risk. Summary of debt reductions from 1Q15 to 1Q16 is provided in the table below: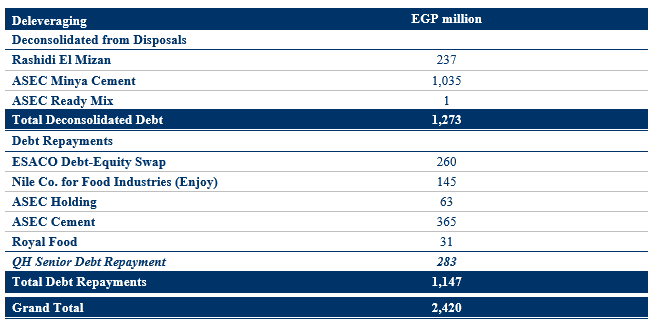 The company reported a Net Loss after Minority Interest of EGP 1,155.4 million in FY15, up from EGP 855.6 million the previous year. This reflects the impact of non-cash charges amounting to EGP 1,078.4 million, as noted above. Setting aside these non-cash charges, Qalaa's bottom-line losses would have significantly narrowed to c.EGP 77 million in FY15.

"Management views total provisions and write-downs booked during the final quarter of the year as a prudent clean-up," said El-Khazindar. "With minor delays in our divestment program having hindered our return to profitability in FY2015, we opted to book these impairments now and head into 2016 having nearly finalized the restructuring of our financial statements. We believe it was essential to take these charges prior to the start of production at ERC and as TAQA Arabia pursues significant new contracts that we expect will allow it to sustainably contribute to our top-line growth and bottom-line profitability going forward."

Meanwhile, total debt as at 31 December 2015 stood at EGP 5.24 billion excluding ERC and Rift Valley Railways, an improvement of EGP 1.39 billion from the 30 September 2015 figure on the back of repayments and debt deconsolidated from exits. Total bank debt at the end of December 2015 stood at EGP 17.11 billion, essentially flat from the figure as at the end of September on the back of the draw-down of previously arranged debt for ERC.

Heading into 2016, Qalaa will continue to push forward with its divestment and deleveraging strategy, with a number of deals already concluded in the first months of 2016, including Tanmeyah and Misr Glass Manufacturing, having generated proceeds to Qalaa of over c. EGP 440 million. Additionally, several other transactions are on the horizon, the largest of which include ASEC Holding's investments in Algeria (cement companies Djelfa and Zahana) as well as agrifoods player Dina Farms. Meanwhile, Qalaa is in advanced stages of concluding its transaction with FHI, which will entail the sale of MENA Home (Designopolis) and Grandview, and will result in further deconsolidation of significant debt related to Qalaa's non-core holdings.

Qalaa Holdings' full business review for 4Q/FY2015 and the financial statements on which it is based are now available for download on ir.qalaaholdings.com.
—Ends—
Previous Qalaa Holdings press releases on this subject and others may be viewed online from your computer, tablet or mobile device at qalaaholdings.com/newsroom
Qalaa Holdings (CCAP.CA on the Egyptian Stock Exchange) is an African leader in infrastructure and industry. Formerly known as Citadel Capital, Qalaa Holdings controls subsidiaries in industries including Energy, Cement, Transportation & Logistics, and Mining. To learn more, please visit qalaaholdings.com.
Forward-Looking Statements
Statements contained in this News Release that are not historical facts are based on current expectations, estimates, projections, opinions and beliefs of Qalaa Holdings. Such statements involve known and unknown risks, uncertainties and other factors, and undue reliance should not be placed thereon. Certain information contained herein constitutes "targets" or "forward-looking statements," which can be identified by the use of forward-looking terminology such as "may," "will," "seek," "should," "expect," "anticipate," "project," "estimate," "intend," "continue" or "believe" or the negatives thereof or other variations thereon or comparable terminology. Actual events or results or the actual performance of Citadel Capital may differ materially from those reflected or contemplated in such targets or forward-looking statements. The performance of Qalaa Holdings is subject to risks and uncertainties.
For more information, please contact:
Ms. Ghada Hammouda
CMO & Head of Marketing Communications
Qalaa Holdings
ghammouda@qalaaholdings.com
Tel: +20 2 2791-4439
Fax: +20 22 791-4448
Mobile: +20 106 662-0002
1 To facilitate the comparison of year-on-year financial results, income statement figures from Revenues through EBITDA in this document have been adjusted for Qalaa Holdings' divestment of ASEC Minya, ASEC Ready-Mix and confectioner Rashidi El-Mizan (all exited in November 2015) to include their results up until October 2015 for the cement exits and until November 2015 for Rashidi. Under Egyptian Accounting Standards, the results of all four companies are reflected under Discontinued Operations in Qalaa's statutory financial statements.